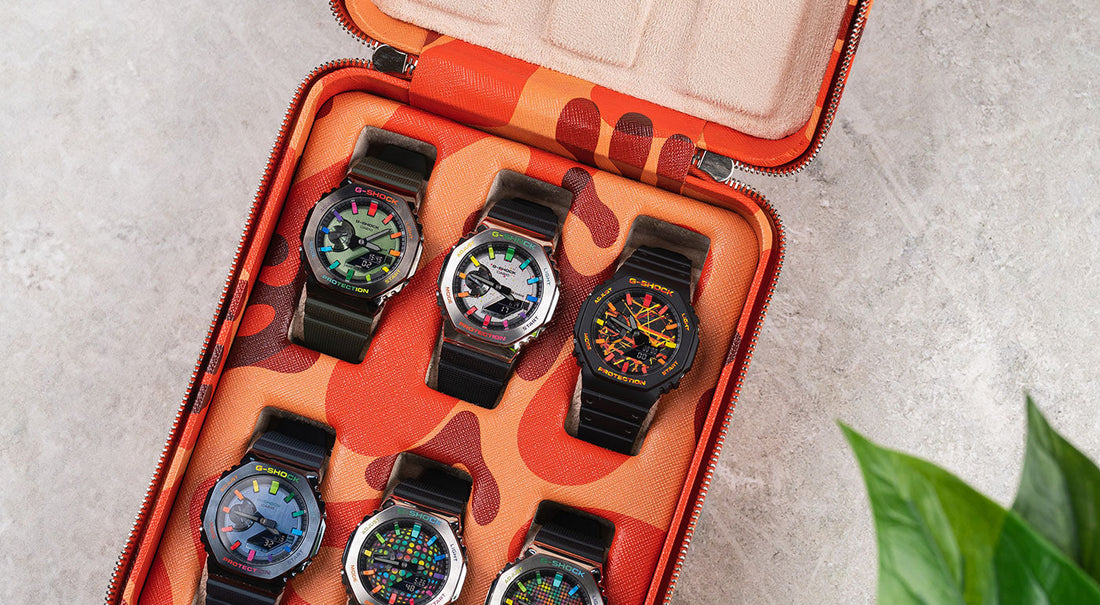 Achieve ultimate protection and style with the IFL Orange Watch Case.
IFL watch cases offer a luxurious and compact solution to your watch storage. For avid watch collectors or proud owners of one item. Guarantee the protection of your watch while adding a splash of vibrancy to your accessory collection.
Don't compromise on style for safety. Maintain the beauty of your beloved timepiece with this impeccable case:
- Made of only the highest quality materials
- Expert craftsmanship
- Intelligent aluminium locking mechanism
- Sleek and elegant design.


Safety First
IFL orange watch case conveniently stores any watch type. You'll feel secure while travelling because of its clever lock and lightweight yet sturdy design. It's internally covered in soft Alcantara® fabric for cushioned protection, and the outer layer provides optimal watch protection. The young bull leather material acts tough against potential scuff marks to the exterior. This premium watch case provides complete assurance for your prized possession.
Quality Over Quantity
Certainly, the IFL Orange Watch Case ticks all the boxes when it comes to quality. Its attractive design isn't just easy on the eye. IFL utilize only the best craftsmanship and high quality materials to create this beautiful accessory box. The IFL Orange Watch Case provides care and protection for your watch. Designed for a single watch, it's a classic gift for a loved one, male or female. Or why not treat yourself!
Elegance Through Time
High quality timepieces have long represented class and style. Becoming invaluable, passed down through generations. Collectors items for the wealthy, timeless gifts from loved ones. Because of this, the protection of your prized possession is IFL's number one priority. Watches have clearly evolved through the years. From pocket watches to fitness trackers. Yet, nothing beats the elegance and grace of a wrist watch, for man or woman. So, give your watch the care it deserves with this smart orange watch case.
One Size Fits All
Without a doubt, style marries practicality with this watch case. Not all timepieces were created equal, however, this watch case has got you covered for every variation. Furthermore, this case does not compromise on practicality and was created to fit any style of wrist watch. Sleek and stylish design coupled with uncompromising practicality makes for the perfect companion for your watch.
A Gift The Keeps on Giving
Particularly diverse, watches undoubtedly make the perfect gift! For any gender of any age for any occasion! So, with this in mind, pick up an IFL watch case. Because it makes the perfect addition to any gift or collection.
Elevate your Collection
Why not elevate your collection with a unique shade. How about brightening up your accessory space? Or, maybe even evoke feelings of happiness. This eye-catching color will certainly add some vitality. In particular, orange is bold and vibrant and loves to be seen. What better way to showcase your wrist watch than with this exciting shade. Of course the IFL orange watch case will work great for any use. You and your watch deserve it!
Celebrity Chef Gordon Ramsay Watch Collection
Explore celebrity chef Gordon Ramsay watch collection, from luxury brands like Rolex...