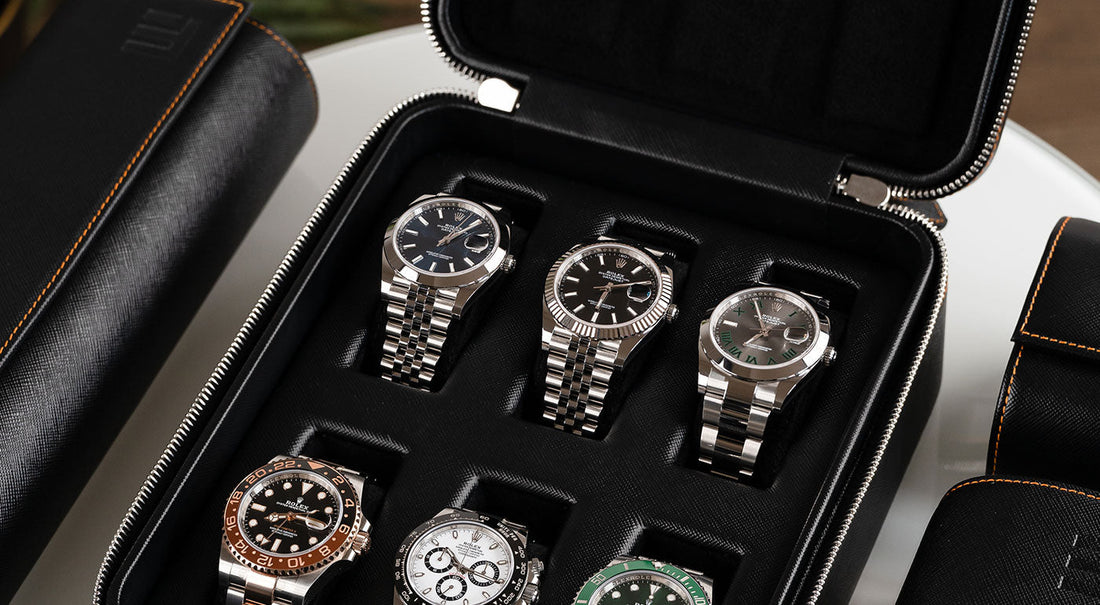 The Best Watch Presentation Case For You
What's the best way to show off your most prized watches? With a lovely presentation case of course! These allow you to neatly arrange your watches so that their beautiful faces are fully visible. Not only that, but they also help to protect and preserve your timepieces.
But, how do you pick the best one for you? Each watch is different, so you want to make sure the watch presentation case does the best job for you. 
Let's take a look at the different cases available for you to choose from.
Black beauties
If you're a lover of understated luxury, then a black watch presentation case might be perfect for you. Here are some cases for your consideration:
Noir Mackenzie Watch Case: This aluminum and carbon fiber case is a snug home for 12 beautiful watches. But, there's more! Also make use of the two compartments big enough for bracelets, cufflinks, and even gloves. Keep your watch presentation case's contents safe with the secure lock.
Black Saffiano Watch Box: Nothing says "pure luxury" like the feel of smooth, velvety leather. This IFLW Saffiano watch presentation case has enough room for 10 watches that comfortably sit in the black Alcantara®️ interior. Various wrist sizes fit in perfectly in the unique cushions, so any of your watches will feel at home here.
Black Mackenzie Watch Case: If you're looking for a strong, protective watch presentation case, then this one is perfect for you. The combination of anodized aluminum and wood or leather provides an elegant exterior to keep your watches well-protected.
Bright is right
Show off a bit more of your personality with a bright watch presentation case that's still beautiful, elegant, and protective. Here are a few choices to consider:
Orange Camo Watch Box: Cozy, bright, and still refined, this watch presentation case can hold six of your favorite timepieces. Both the inside and the outside of the Orange Camo watch box feature a sophisticated camouflage pattern for a never-ending beautiful result.
Rouge Cypress Eaton Watch Case: Handmade in the Charles Simon workshop in Canada, this could be your new favorite travel buddy. The Rouge Cypress Eaton protector has a beautiful green leather exterior and a lush orange Alcantara® interior as well as enough space for 3 watches. The removable cushions mean you can place watches of different sizes in there, as well as make space for small items such as cufflinks.
Marine Mackenzie Watch Case: If you're a watch collector looking for a secure and beautiful home for your timepieces, then this Mackenzie watch protector might be the right one for you. Keep up to 10 watches safe and ready for display with the cool, marine blue aluminum and carbon fiber protective exterior and interior.
Whichever one (or ones) you pick, you're sure to proudly show off your collection when asked. At the end of the day, how you store your well-crafted timepieces is more than just about keeping them safe. It's also about giving them an equally elegant home to stay in until you wear them again.
Rolex Day-Date Puzzle Dial - Which Celebrities Own It
These timepieces, available in white, rose, or yellow gold, feature jigsaw-inspired enamel...