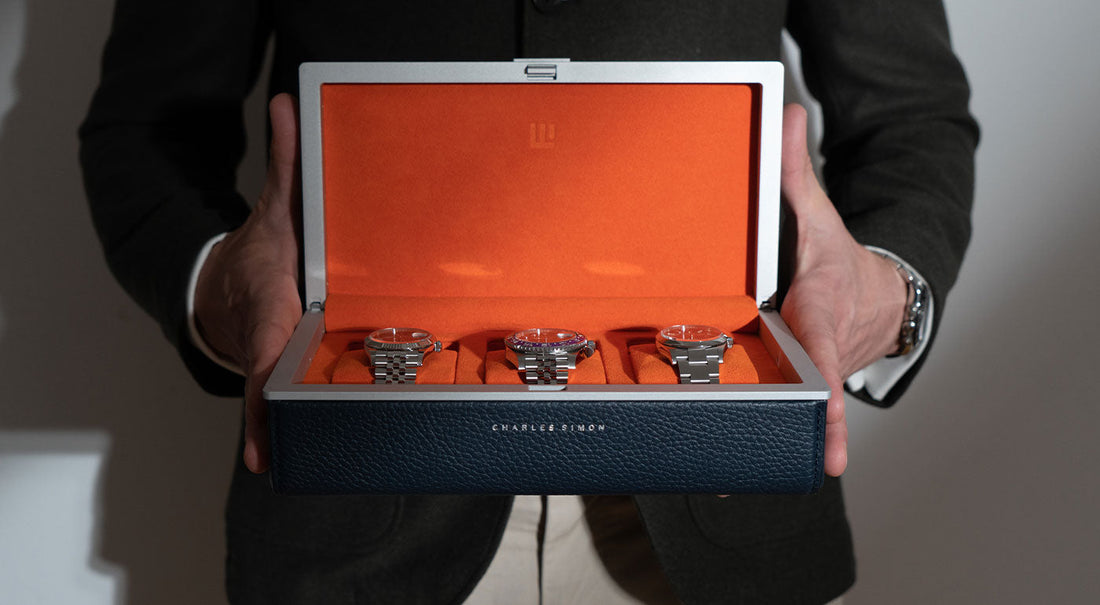 It is very important to keep your belongings safe. This is especially true of valuables, such as your jewellery and watches. Of course, even the most durable or expensive watch can be damaged or lost if it isn't looked after. Furthermore, a watch can easily be scratched or damaged if left lying around the house. One of the best ways to care for your watch is to keep it safe when it isn't being worn. For that, you have several options. One of the best is a watch case. 
A watch case is a secure case in which you can store your watches. Many watch cases offer multiple storage slots. By keeping your watch in a watch case, you greatly reduce the risk of damaging or losing your beloved timepiece. Can't find your watch? It must be in your watch case! However, it is not just for keeping your watches safe. Here at IFLwatches, we have watch cases that are not only sturdy and effective but trendy and stylish too.
Why use a Watch Case 3 Slots?
Many people own a watch. After all, everybody needs to tell the time. A watch can be beautiful, it can be luxurious, and it can add style to almost any outfit. Not to mention that a watch is one of the most practical pieces of jewellery in existence. A watch can even be a symbol of status and wealth. It can be your prized possession or your most useful tool. However, because there are so many types and styles of watches, at so many prices, some people may choose to invest in more than one.
If you have multiple watches, you are sure to need a safe place to keep them.
However, why keep them locked away in a drawer or a safe? Put your watches in a stylish watch case for home storage, or for travelling. Your case is not just a box, it is an ornament. Whether going on an exotic holiday or making an important business trip, you will need a watch. Now you can keep your watch safe with a watch case while you make your journey. Can't choose a favourite? Use a watch case 3 slots and bring multiple watches with you.
Conclusion
Using a watch case with 3 slots is an excellent choice for any watch lover out there. Whether for a stylish home ornament or for a useful travel item, a watch case is an ideal choice. Now you can display your watches with ease and security. The Vanilla Velvet Eaton watch case comes with removable cushions, and an aluminium lock, for extra safety. 
With its slick design, handmade from genuine Saffiano leather, your watches are sure to receive the luxury they need. Each of the three slots of the watch case can hold and display an individual timepiece, showing it off to the world, or keeping it safe from prying eyes. Give your watches the home they deserve. Here at iflwatches.com, we have plenty to choose from. Got the time? Keep it safe with a three-slot watch case!
Rolex Day-Date Puzzle Dial - Which Celebrities Own It
These timepieces, available in white, rose, or yellow gold, feature jigsaw-inspired enamel...