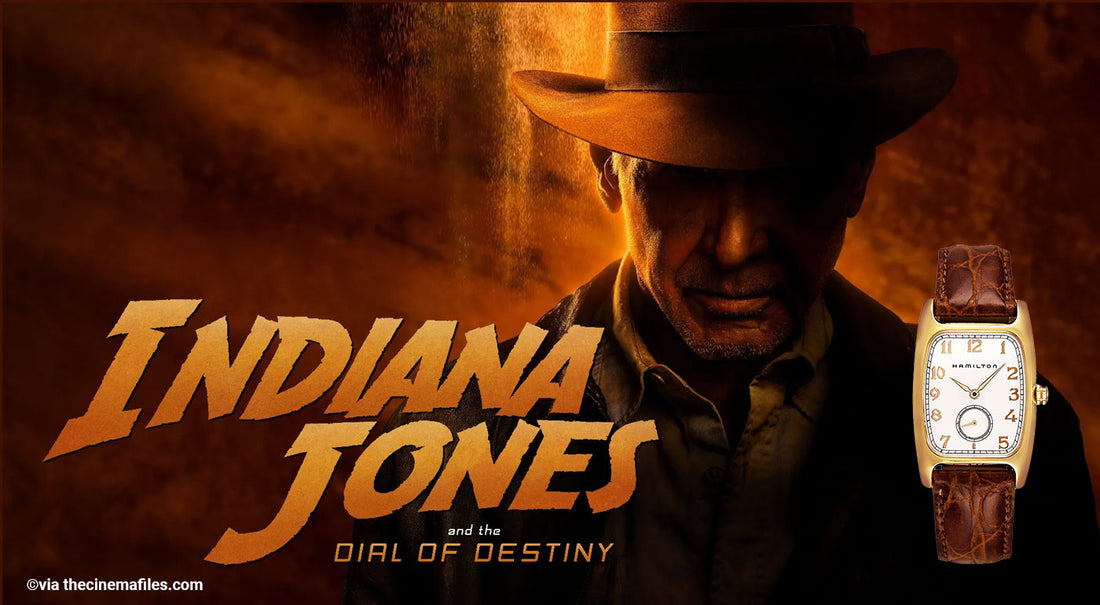 Harrison Ford Watch in Indiana Jones and the Dial of Destiny
At last! The movie we've all been waiting for is finally here in Sweden. I couldn't believe it when I heard they were making a new Indiana Jones movie. As a huge fan, I was thrilled! I had been waiting for the release day, and at last, last weekend, I went with my buddies to the cinema. I just saw the fifth movie in the series, Indiana Jones and The Dial of Destiny.
My love for Indiana Jones started when I was only 10. It was almost New Year's Eve 1996, and I remember my dad was sitting in the living room, watching an Indiana Jones movie. I just happened to be in the room and ended up watching the movie with him. With all the adventures and action, it wasn't long before I was hooked! And that's how I started liking Indiana Jones.
The fifth movie is a bit different, and even more interesting, because now I love watches. I heard that a watch brand was part of the movie. 
This is the first time Indiana Jones has anything to do with watches. This makes sense, since the whole story in this movie is all about time. I mean, just think about the title - Indiana Jones and The Dial of Destiny.
In this blog post, we'll discover Harrison Ford watch in Indiana Jones and The Dial of Destiny. It's not just about the style, but also the story behind it. So, grab your explorer's hat, put on your adventure boots, and let's go on a timekeeping journey with none other than Indiana Jones himself!
Harrison Ford Watch in Indiana Jones and the Dial of Destiny is Hamilton American Classic 'Boulton' Quartz H13431553
When I watched the movie, I was sure that Harrison Ford was wearing a watch in many scenes. This watch got noticed in a few scenes, especially when it got lost for a while. Indiana Jones finds it again, and we learn that it's important to him because it was his dad's watch.
So, what watch does Harrison Ford wear in Indiana Jones and The Dial of Destiny? It's a Hamilton American Classic 'Boulton' Quartz H13431553, the same watch that Chris Evans wears in The Gray Man.
Besides his usual bag, worn-out boots, and handy whip, there's something shiny new on Indy's arm: a watch. This watch, the Hamilton American Classic Boulton, fits Indy perfectly. It has a gold-tone case shaped like a barrel, numbers in a cool style, a small second-hand dial, and a strap made of cognac leather.
It's important to note that this is the first time in forty years that Indiana Jones is seen wearing a watch. Hamilton's CEO, Vivian Stauffer, says, "Being in the final Indiana Jones movie shows our strong bond with Hollywood and the movie industry, which we've had since 1932."
Advertisement
Harrison Ford Watch in Indiana Jones and the Dial of Destiny is Hamilton American Classic Boulton Quartz H13431553
The Boulton, first seen in 1941, was one of Hamilton's best-loved watches of that decade. They brought it back to life in the 1980s, and the Boulton has been updated to suit today's life.
It's a bit bigger than the original one. With a new shape for the leather strap and a steel case, the Boulton gives us Swiss accuracy but still keeps its American soul.
The steel case has a yellow-gold look because of a special coating. It's 27mm wide and 31.6mm long. The case is curved, 7.8mm thick, and can handle a little bit of water. It also has a clear cover over the dial. Although it's a quartz watch, I wish they used a more expensive clear cover. 
The case is comfy to wear and it's easy to read the time in most lights. But, it's not really a sports watch. It's more of a fancy or formal watch. It has a brown leather strap that looks like alligator skin. 
The buckle is a little bigger than what you'd see in the 1940s, but it's not a big deal.

Retail price: $745.
My Thoughts About the Movie
This was an amazing movie! It was full of excitement, and it felt like a great way to say goodbye to a character and a series we all love.
At the start, I couldn't believe how young they made Harrison Ford look. It was like seeing him in the old movies. For a few minutes, I even thought, "Is Ford really that young? He must be really good at staying fit!"
All the other characters were great too. From his friends to the bad guys, I was on the edge of my seat the whole time. It was really cool when they traveled in time. Even though Ford is older now, he did a great job. Watching this movie made me think of the 80s and 90s, and it felt good. I was sad when the movie ended because I wanted to see more of Indiana Jones.
If you haven't watched it yet, you really should. This movie is one of the greats. They say this is the last movie in the series, but when he grabbed his hat at the end, it made me hope there will be another one.
Advertisement
Rolex Day-Date Puzzle Dial - Which Celebrities Own It
These timepieces, available in white, rose, or yellow gold, feature jigsaw-inspired enamel...