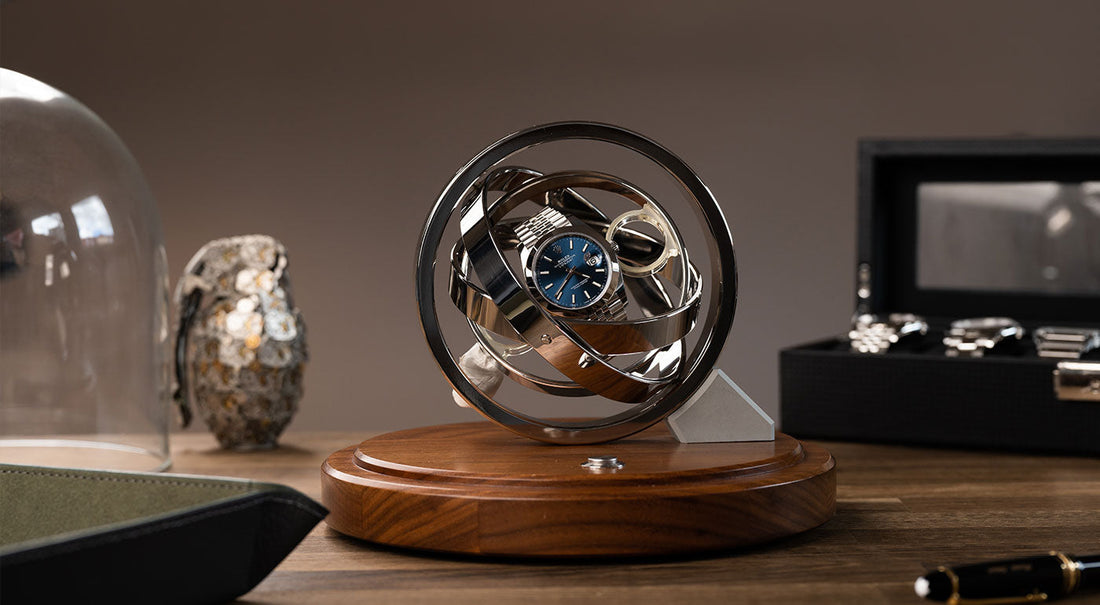 Luxury watches have become very popular in recent years. They are statement pieces and a good investment in the long run. 
However, did you know most luxury watches are automatic? This means they don't run on batteries but on the intricate mechanisms inside the watch. The watch relies on the movement of these weights and the motion of the wearer to stay powered and tell the time accurate.
One way to make sure your watch always does this correctly is by using a watch winder. This simple tool is essential for anyone who uses an automatic watch and wants to keep their luxury timepiece in tip-top shape. But wait, what exactly is a watch winder? Don't worry, this brief article will tell you all about them. Read on to find out more. 
What is a watch winder?
Your luxury watch should always be in pristine condition and an automatic watch winder is a must-have tool and indispensable device. Powered by batteries or electricity, our beautiful watch winders use rotary or vibration technology to keep your automatic watch functional and accurate when not worn.
Apart from keeping your watch functional, our winders can also act as a protective case for your watch. The well-designed case can also be used as a decorative piece in your bedroom. So, whenever you are not using your watch, make sure you use our watch winder to ensure your watch always functions accurately.
Designed with care
Just place your watch inside one of our watch winders and rest easy, knowing that your watch mechanisms are never interrupted. Our stylish yet practical watch winders are designed with the greatest care to showcase your watches and protect their movement. This is because the watch winder simulates the natural rotations and movements of the watch on your wrist.
The simulated movement triggers the lubricated gears and keeps them in motion, just as they would when they are being worn. It is really all about the force of momentum and the duration of time.
Why should I use a watch winder?
Here at IFLwatches, our exclusive watch winders are not just useful devices, they are also fashionable accessories. We have a great selection of winders for your luxury, automatic watch. Our Swiss KubiK Winders are small, colourful, and compact, while our Orbit winders are exclusively crafted and decorative. We even carry a limited series of Star Wars watch winders for the film buffs out there. Whatever your style, your luxury watch is in expert hands with our winders.
All watches have a limited lifespan, even the most durable and luxurious ones. If your automatic watch doesn't see much action, it will slowly wind down. After some time, this could affect the gears of the watch, causing it to need repairs or stop working. However, you can avoid this problem easily with the proper care and attention. Extend the life of your treasured timepiece with one of our exclusive watch winders! With so many to try here at iflwatches.com, there really is no time to waste.
Rolex Day-Date Puzzle Dial - Which Celebrities Own It
These timepieces, available in white, rose, or yellow gold, feature jigsaw-inspired enamel...