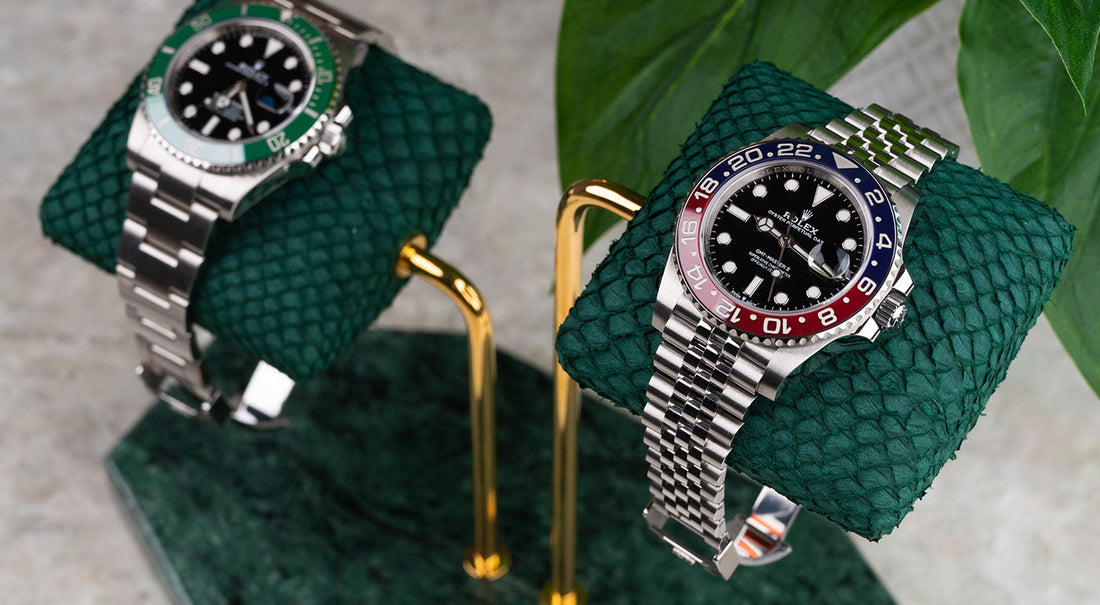 How to make a Watch Stand
Watch stands are a great way to beautifully display your watches. You will find a lot of watch stands at IFL watches to match your needs and aesthetics. Watch stands are available in a great number of shapes and materials. One of the most common materials is marble. They are also available in shapes like squares, hexagons, and octagons. Some other more eccentric shapes are the robot forms of the stand. 
Variety of Materials
The watch stands are available in many materials. Just the marble alone has a number of options. Black Carrara marble, Milas Lilac marble, White Lilac marble, White Carrara marble, Portoro Nero marble, and Guatemala Green marble are some of the many options. These bases have a polished finishing and bevelled edges. All these different kinds of bases lead to a cushioning on top with polished stainless steel bars or golden veins. At the top, the area in which the watch is placed, it is also made with a variety of materials. Different types of leathers like the Salmon Leather from the Norwegian Fjords and more are often used to create the cushion of the stand. All the watches at IFL are handcrafted in Stockholm, Sweden.
A Utility Product
When it's time for you to take your watch off you want to be able to store it in a safe place. Watch stands become the perfect product to keep your watches safe. Your beloved timepiece often needs a comfortable and safe home temporarily. Some watch stands also come with the capacity to hold more than one watch. This kind of watch stand obviously take up a different shape like a horizontal or an oblong shape, to accommodate multiple watches. IFL knows how to make a watch stand. And their current watch stands will keep your watches safe from accidental scratches. This is one luxury item that any watch enthusiast will find necessary to be added to his watch paraphernalia.
Impeccable Designing
As discussed before, the watch is placed on a cushion. This cushion is made of a soft padding which is perfectly angled to hold your watch in place. The watch stands look good laced almost anywhere in your surroundings. 
Whether it is on your night stand, in your office, or on your desk, watch stands look good in all sorts of settings. The mesh net on the cushion further makes the watch stand look outstanding. The dimensions of these watch stands come out to be at an average of 14 cm x 12 cm x 16 cm. This allows them to fit perfectly on most surfaces.
Watch stands are a must- have for any watch aficionado. They are a luxury item that add to the beauty of your watch collection. Some people also make their own watch stands for this purpose. How to make a watch stand? You can get your watch stands customized or modified at IFL watches. You can also get a robotic watch stand according to your taste and preference.
Rolex Day-Date Puzzle Dial - Which Celebrities Own It
These timepieces, available in white, rose, or yellow gold, feature jigsaw-inspired enamel...