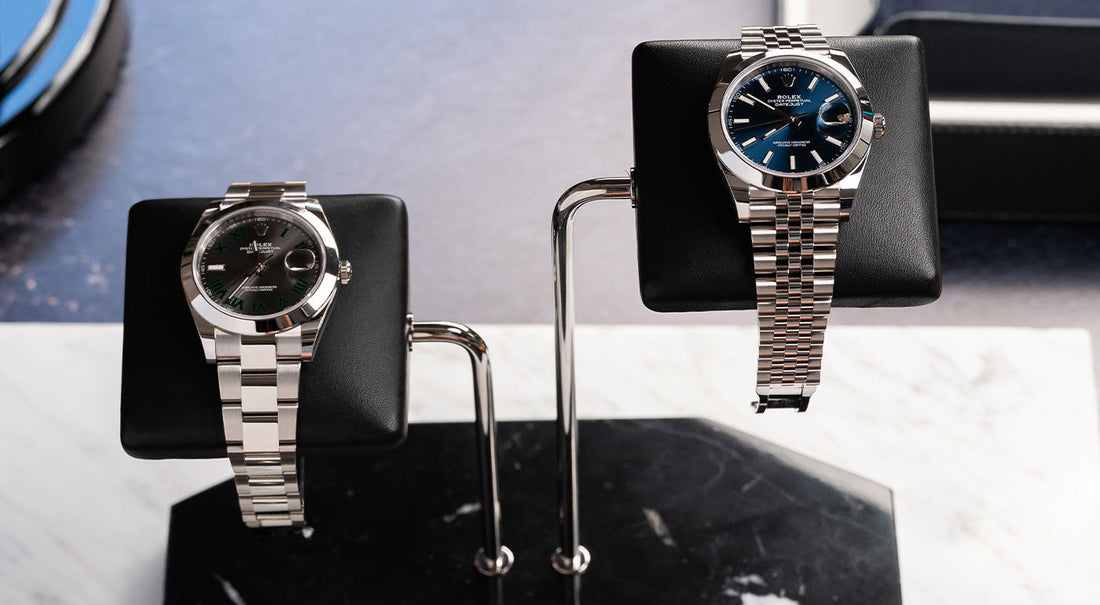 A marble watch stand is the perfect place to lay your everyday timepiece when you take it off. Resting your watch on the stand's cushion will protect it from getting scratched whilst keeping the watch nearby. Simply slip the watch on and off the cushion for safe keeping. A marble watch stand is a distinguished, sophisticated decoration that will look just as good on a nightstand as an office desk. 
All of the marble watch stands at IFLW are exclusively created in Sweden by expert craftsmen. They are meticulously made by hand and no detail is overlooked from the leather covered cushions to the supporting bars, down to the unique marble bases.
The watch supporting cushions are angled at just the right slant to secure your watch in place. All the watch stands have two sized models that are made for the safekeeping of one and two watches. As marble is a natural material, each base displays different vein patterns that gives it a one-of-a-kind quality.
Salmon Watch Stands
Salmon watch stands feature an extraordinary, rich leather that is made from salmon, giving it a distinctly unique appearance. Sourced from sustainable salmon farms in the Norwegian Fjords, tanned in Iceland and then fashioned by hand in Sweden. This creation is the result of a partnership between IFLW and craftsman Daniel Ankarstad of Sibirien Stockholm.
Cerulean Salmon Watch Stand
This stand features a deep blue cerulean color salmon leather cushion attached to a polished steel bar supported by an orbica marble base. Orbica marble originates from Italy and is dark and light gray with white veins. It is durable, yet elegant and luxurious.
Royal Salmon Watch Stand
Crafted with green salmon leather cushions upheld by elegant golden bars. The base is constructed of Guatemala verde marble, a green marble that originates from the Aravali mountain range in India. The one watch version has a hexagonal base and matching cushion shape. The two watch model incorporates an octagonal base and cushion shape.
Midnight Salmon Watch Stand
This stand is constructed with a black Carrara marble base sourced from Carrara in the Tuscany region of Italy with coordinating black salmon leather cushions. It features stylish, stainless steel bars for a contrasting look.
Himalayan Salmon Watch Stand
At the base of this stand is a Milas Lilac marble, a white marble with lilac veins, quarried in Turkey. It has interestingly colored cushions that start as dark gray and then grade into a light gray/white. These are perfectly matched with glistening, silver colored bars.
Carrara Marble Watch Stands
The noir Carrara watch stand has a polished, black Carrara marble base with matching black leather covered cushions supported by  steel bars. The Pearl Carrara stand features white leather cushions upheld by a stainless steel bar on a white Carrara marble with light gray patterns.
Midnight Portoro Watch Stand
This one is made from a beautiful, Italian black marble with golden veins sourced from the island of Porto Venere. The base is complemented by two black leather cushions and highly polished golden bars thatcomplete the luxurious look.
So many stands to choose from.They make an ideal gift for the watch lover in your life.
A Closer Look at Kim Jong Un Watch Collection
Discover the enigmatic watch collection of North Korea's leader, Kim Jong Un....