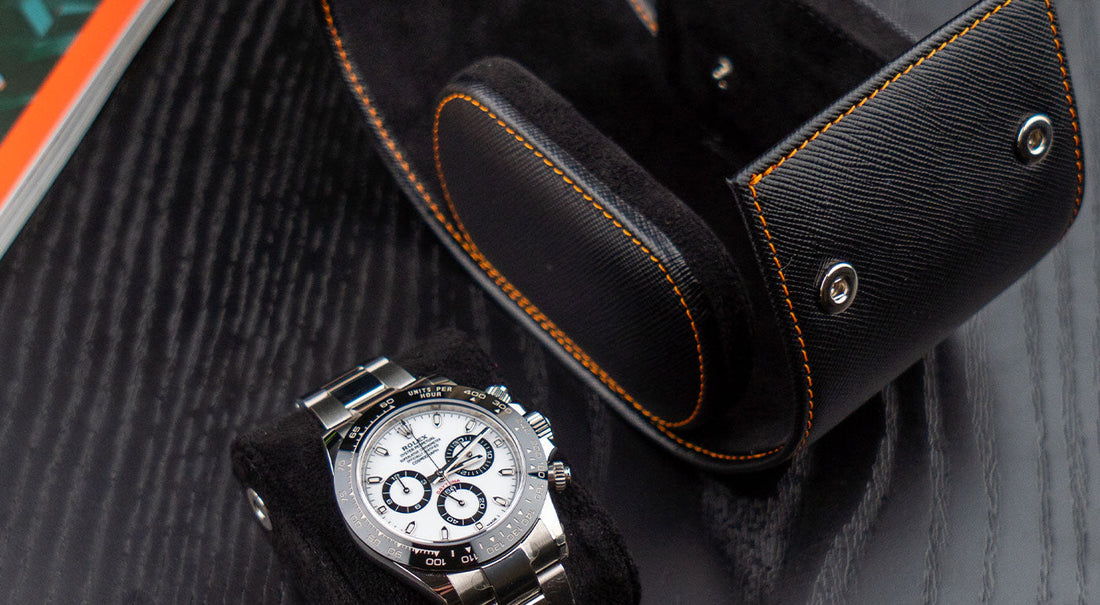 Our Watch Roll Cases perfect for your Rolex Watch
Once you have invested heavily in a fine timepiece (such as a Rolex), the next move is to care for it properly. Start by getting suitable storage, perhaps one of the finest watch rolls, 'the Rolex watch roll case'!
This is the best way to keep your wrist watches from getting jagged or broken. In addition, keeping dust and dirt from ruining your gleaming watch.
But first, you must precisely determine what you require from your watch storage. Here is everything you need to know about the our watch roll cases perfect for your Rolex Watch.
Why a watch roll case for your Rolex:
For storage
A watch roll can serve as a convenient home storage solution for your prized timepiece. Because it is built of high-end materials, giving your watch is a pleasant, safe experience. It will help keep them dust-free and scratch-free.
Of course, if you have a collection of automatic watches, you'll need one of the best watch rolls to keep them wound and ticking. There is a curated selection of luxury watch rolls for travel and home storage.
For travel and safety
The watch roll case is light, making it ideal for travel. Whether you're an enthusiast collector of wristwatches or only have one or two sentimental timepieces, your timepieces need to be kept safe.
Each watch roll contains flexible and removable watch pillows. This allows you to easily remove and replace your watches within the roll: the ideal combination of form and function.
Travels with a timepiece could be risky, especially if you're carrying many timepieces, but a watch roll makes it much easier.
A durable watch roll will secure your watches while travelling. Keeping them together and organized makes them more difficult to misplace or damage.
Construction
The roll consists of a protecting barrier to keep the watches from getting too close together—the ultimate protection of one cushion per watch.
Each cushion has clip buttons that make attaching and detaching the cushion a breeze. The watch case is closed and opened using the same clip technique, allowing your timepieces to be readily accessible.
A flexible and easily formed cushion is used in making watch roll casings. It best fits wrists up to 15cm / 6 inches.
The watch may feel slack around the cushion on larger wrists. When the roll is closed, the timepieces will have no room to move. They will be completely secure!
Durability
The soft watch rolls are made of leather or suede, and they will keep your watches organized while also protecting them from scratches.
The body of the watch roll case is not only elegant but also functional. The materials are water-resistant, scratch-resistant, and extremely long-lasting. Due to these features, the product is suitable for storage and travel.
Celebrity Chef Gordon Ramsay Watch Collection
Explore celebrity chef Gordon Ramsay watch collection, from luxury brands like Rolex...