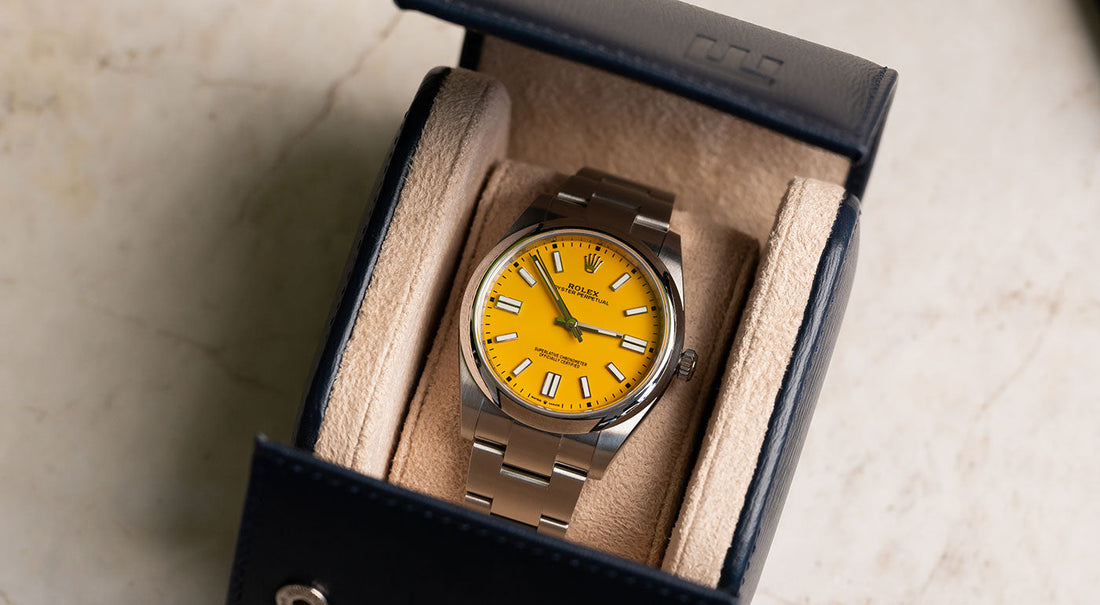 Your Beautiful and Stylish Cushion Style Watch Case
A cushion style watch case allows you to display your favourite timepieces rather than hide them away. With a watch case, you can conveniently sort and organize your watches while keeping them safe. It is also the ideal tool to protect your timepieces while travelling.
IFLW offers high-quality, handcrafted cushion style watch cases for the greatest possible user experience. Also, the cushion watch cases are detailed to perfectly take care of your timepieces. Here are some eye-catching watch cases below.
Vanilla Velvet Eaton Watch Case
The Vanilla Velvet Eaton watch case is hand-made in Canada and can hold up to three watches. The interior is produced from Alcantara and the cushions are removable. Its high-quality aluminium lock creates a sleek and secure appearance. This watch case costs €1,390.
Blue Camo Watch Box
The IFLW Camouflage watch case is handmade in Italy and can store up to six watches. It has an orange interior while the exterior which is made from Camo Saffiano leather is blue. The watch case can support different wrist sizes because of its unique cushion shape. The Blue Camo watch box costs €790.
Nuage Granit Eaton Watch Case
The Nuage Granit Easton watch case originates from Canada and offers the best protection for your wristwatches. With a beautiful interior made from Alcantara, the case can hold up to three watches. This case has removable cushions with a lock made from high-quality aluminium. The Nuage Granit Eaton watch case costs €1,390.
Mackenzie Watch Case
The Mackenzie watch case is classy and has a luxurious feel. The watch case can hold up to 10 wristwatches. The combination of the aluminum lock and the carbon fibre enclosure offers the finest protection. The Marine Mackenzie watch case is expensive because of its exclusivity and is available for €9,490.
Orange Camo Cushion Style Watch Case
The Orange Camo watch case originates from Tuscany, Italy. It can hold up to 10 watches. The exterior is in Orange Camo Saffiano leather while its interior is in Beige Alcantara. The watch case can hold watches of different sizes because of its flexibility. This watch case costs €990.
Green Camo Watch Box
Handmade in Tuscany, Italy, the IFLW Camouflage watch box holds up to ten watches. It is made with Green Camo Saffiano leather but has a contrasting blood-orange Alcantara interior. This masterpiece goes for €990.
Rouge Eaton Watch Case
This watch case originates from Charles Simon's workshop in Canada. The interior consists of Alcantara and removable cushions. The aluminium lock gives it a strong layer of protection. As a result, it is suitable for both travel and showcase. The luxury watch case costs €1,390.
Noir Mackenzie Watch Case
This case can hold up to 12 watches. It also has a compartment for other accessories like bracelets and gloves. You can be sure that your watches and valuables are safe because of the aluminium lock and fibre protective case. The Noir Mackenzie is high-end, and hence it costs €9,490.
You can pick any cushion style watch case that suits your style and budget to ensure the safety of your timepieces. Also, it is the perfect gift to give a watch lover.
Rolex Day-Date Puzzle Dial - Which Celebrities Own It
These timepieces, available in white, rose, or yellow gold, feature jigsaw-inspired enamel...