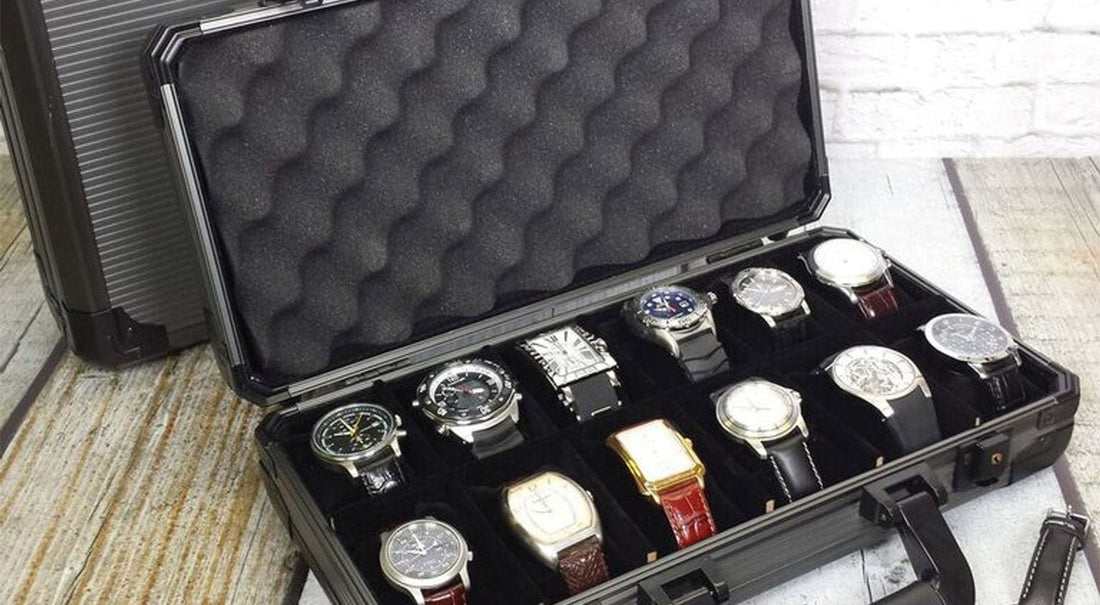 Both men and women love wearing watches, and for good reason. They're functional, fashionable, and can be dressed up or down. However, watches — like most frequent-use items — can become damaged and lose their shine if not stored carefully. That's why it's important to store your watch safely, in a watch briefcase. The best versions of these are also extremely stylish. 
Impeccably made with the best materials, a watch briefcase keeps your favourite timepieces from wear and tear, and allows you to bring them with you on longer trips, or even to display them with class in your own home. 
The best materials
Favoured watches need to be treated with utmost care. Soft materials and a firm base should be the starting point for any watch case, and we only trust our watches in cases with the superlative in all fabrication components.
A leather exterior, as found in the Charles Simon Mackenzie watch cases, protects from moisture and rough surfaces. This leather is made from young bulls, meaning it's both tough and buttery-soft. The same watch case also uses this leather to cover an aluminium and carbon fibre skeleton, meaning that beneath the supple surface is a near-impossible shell to crack. All of this protects the unique Alcantara lining, which gives a scratch-free nest for even the most delicate heirloom items.
Highest quality
Though excellent materials are an absolute necessity, if they aren't assembled with the utmost care, they are wasted. That's why the IFLW watch cases are all handmade. Constructed by skilled artisans in Tuscany, the best Alcantara interiors are expertly wrapped in Saffiano and fitted with lockable zips to keep your watches safe.
Take your watches with you
As statement pieces, your watches are meant to be displayed. When you are home, these watch briefcases do an admirable job of showing off your taste in wrist-wear.
But they are capable of much more than that! Constructed for durability and protection, a good watch briefcase can withstand travel. For those who travel often, a watch briefcase keeps your style from going stale, and allows you to switch up your accessories during your trip.
Necessary features
All good watch briefcases need to provide peace of mind. Security is a priority for people who buy these items. That's why Mackenzie watch cases have in-built passcode locks, and it's also why they are so durable and hard-wearing.
Aside from security, people want convenience. Watch briefcases can typically hold more than one watch, with some IFLW and Charles Simon models holding up to 10 or even 12! This allows watch experts and collectors to keep and organise their collections in convenient and stylish ways.
A variety of interior and exterior colours, unique cushion shapes to suit all watch bands, and comfortable handles for carrying and packing are all points to keep in mind when searching for the perfect case.
Whatever the need for a watch briefcase, the true aficionados know to look for the best in quality, construction, and looks. A good place to start is IFLW's selection.
A Closer Look at Kim Jong Un Watch Collection
Discover the enigmatic watch collection of North Korea's leader, Kim Jong Un....